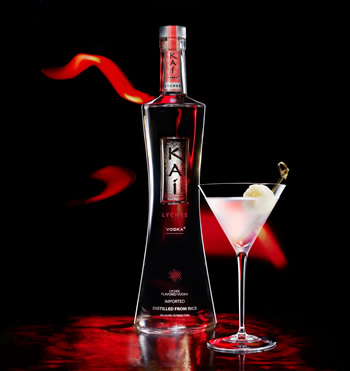 Kai Lychee Vodka with Kai-tini
Recently I had the fortunate opportunity to meet Tim Harris, the regional marketing manager for Kai Vodka. We have been hoping for years to get a great lychee based product for mixed drinks, especially the ever popular Lychee Martini.
As always, we are constantly searching for products that will promote awareness of lychee fruit, which is hampered by an abbreviated season and a limited US awareness. When I sipped my first martini made from Kai lychee vodka I knew immediately that this was going to be a winner. The drink embodies the wonderful defining flavor and fragrance (orange, spice, rose and honey) which is the unique cachet of lychee. The vodka is slightly sweet with a clean finish and can be easily enjoyed straight up or just on the rocks even by those of us who wouldn't normally drink vodka straight. The fresh taste of lychee is apparent with each sip.
While we are deluged with designer vodkas, the Kai vodka has a great story behind it. This unique vodka is derived from the distillation of rare Yellow-Blossom rice grown in the Cam Giang district along North Viet Nams Red River Delta. The vodka is infused with pure lychee juice and the resulting blend is a remarkable taste experience.



Marcus Bender, owner of Honolulu's Brew Moon Microbrewery created the spirit and is actively working to promote the drink throughout the beverage industry.
Bender, and his friend and partner, Jim Stevens,former COO of Atlanta-based Coca Cola Enterprises, Inc. (NYSE:CCE) believe they havenow hit their mark: In June of 2007, they launched Kai Vodka. The upmarket drink, largely targeted at professional women, can now be found locally at restaurants such as Roy's and Ruth Chris Steakhouse and in hotels such as the Hyatt Regency. Kai Vodka is also at Foodland, Costco, Longs, ABC Stores and Total Wines. And in an early triumph for the startup brand, 45 days after launching, Kai Vodka landed an exclusive agreement in California with Southern Wine & Spirits Management, the biggest distributor in the country. Their ultimate goal is to carve out a comfortable niche in the nearly $2 Billion US vodka industry.
We wish them a lot of luck and hope that many people will get to sample this excellent product. If you cannot enjoy the taste of fresh lychee the next best thing you can do is to sip a Kai vodka lychee martini.
Check out some of these exotic drink recipes with names such as:
You can purchase KAI Lychee Vodka Online from www.ACorkAbove.Com Click Here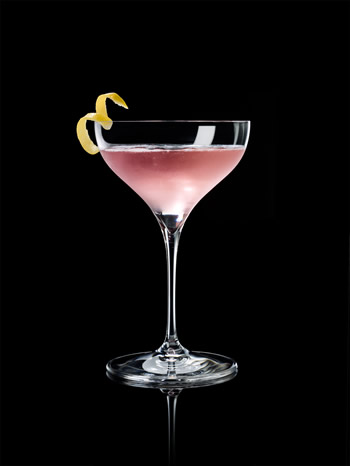 The Exotic Kai Miss Saigon