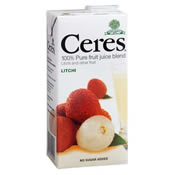 Ceres Lychee Juice
Your Price: $6.00

33.8 fl oz / 1 litre - Made with 100% fruit, no added sugar and no artificial colors or preservatives. Rich in Vitamin C and Potassium. They are sealed in aseptic containers which give them a shelf life of 12 months. Once you open them, you must refrigerate them and drink within 5 days. Product of South Africa.
A Few Recipes with Lychee Juice:
Lychee Margarita
Halloween Wiggle Worm Gelatin

Out of stock.
Click here to special order this item.