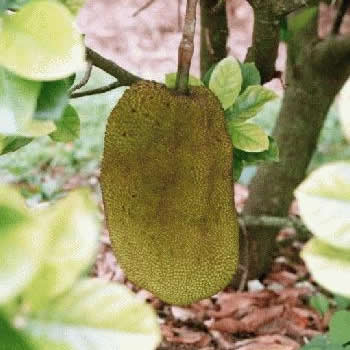 Jackfruit

Your Price: $0.00


Jackfruit will be available this year on a preorder basis. The weight of the fruit can not be exactly determined. Call us with your request and weight range from 15-25 bs.(954)562-2229 Cell Phone - George

Jackfruit must be shipped Next Day or 2 Day Air. Refrigerate as soon as you receive your Jackfruit.

Jackfruit is the largest tree-borne fruit in the world, reaching 80 pounds in weight and up to 36 inches long and 20 inches in diameter. The exterior of the compound fruit is green or yellow when ripe. The interior consists of large edible bulbs of yellow, banana-flavored flesh that encloses a smooth, oval, light-brown seed. The seed is 3/4 to 1-1/2 inches long and 1/2 to 3/4 inches thick and is white and crisp within. There may be 100 or up to 500 seeds in a single fruit, which are viable for no more than three or four days.

When fully ripe, the unopened jackfruit emits a strong disagreeable odor, resembling that of decayed onions, while the pulp of the opened fruit smells of pineapple and banana.

Info from California Rare Fruit Growers Website

Out of stock.
Click here to special order this item.